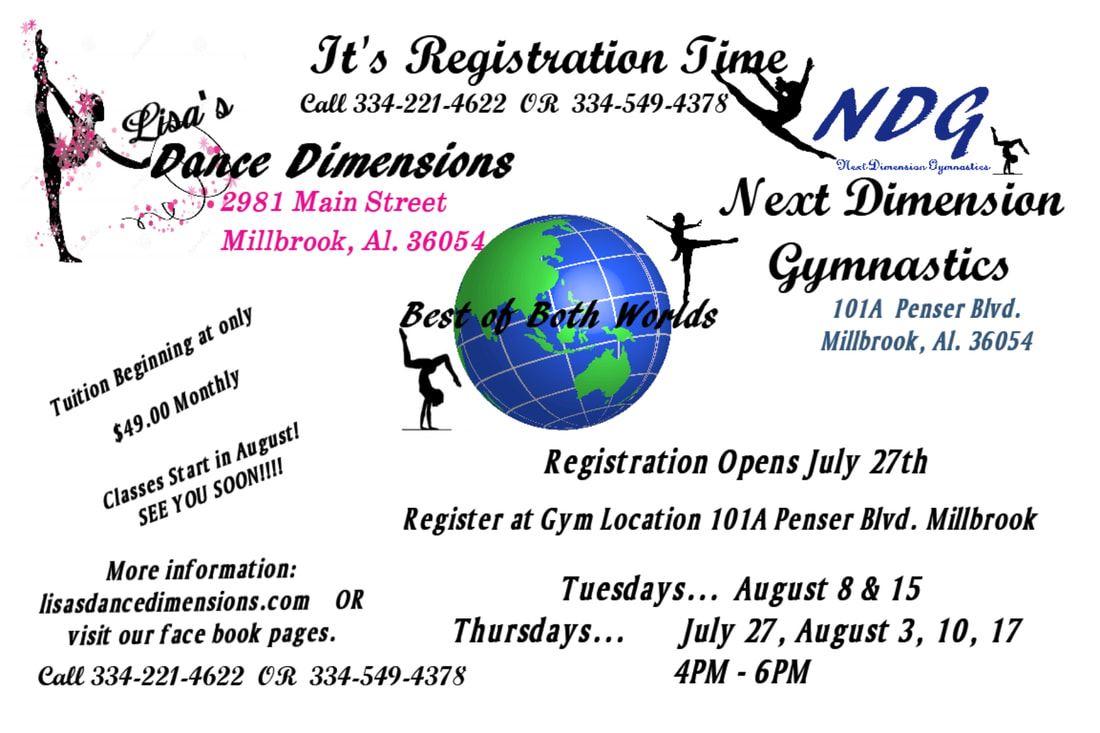 Lisa's Dance Dimensions
&
​Next Dimension Gymnastics


The Best of Both Worlds!
​
DANCE & GYMNASTICS

Dance Studio * Lisa's Dance Dimensions* 2981 Main Street, Millbrook, AL 36054 Gymnastic Academy *Next Dimension Gymnastics* 101A Penser Blvd. Millbrook, AL. 36054
334-285-5515 OR 334-549-4378
LDime@aol.com
Serving the Millbrook community since 1990.



STATEMENT OF PHILOSOPHY: We here at Lisa's, use dance & gymnastics as a tool to give the students the opportunity to develop character, ability, knowledge of these artistic forms and promote self-esteem. We teach important life skills such as, sharing, taking turns, voicing opinions, listening, goal setting, and the willingness to try new things. Although discipline of conduct is required, the students' enjoyment of classes is paramount while still "obeying the rules." Our # 1 goal is that each student leaves class with a smile and the belief that they can do it!
​
Program Objective:
Our lessons are planned so that dancers & gymnasts will:
1. Feel secure.
2. Receive individual attention and encouragement.
3. Develop self-discipline.
4. Experience success in order to develop a positive self-image.
5. Develop dance /gymnastic skills.
Why Dance & Tumble??
Develop coordination, balance, rhythm, strength and stamina
self esteem, self-motivation, and self-discipline, confidence, and poise,
Improves listening skills, and rhythm, as well as learning how to share and take turns with others.
To help improve flexibility and promote joint health
To build muscle and burn calories (By doing cardiovascular exercise, one reduces risk of heart disease and hypertension)
Improves brain function through use of memory and rhythm skills (In creating new brain patterns, one reduces risk of Alzheimer's disease)
To develop communication, teamwork, and leadership skills
TO HAVE FUN!
Why Lisa's Dance Dimensions & Next Dimension Gymnastics??
We offer Qualified instructors who have a passion to teach, the ability to help students progress in technique and encourage the love of the art.
Our costumes and choreography are always age appropriate. With over 40 years of teaching experience Owner Lisa Johnson has been providing the highest quality dance & gymnastic training to the tri-county area. Located in Millbrook for 28 years, we are committed to teaching because we understand the love and the importance the arts can have in a child's life. Exposure to arts contributes to the outcome of raising a well-rounded, creative, and successful child. Our dancers go beyond technique , they develop important life skills-learning to be respectful, confident, and conscientious young people and for many, this is their "sport". They learn how to be a part of a team and their commitment to a team!
Our classes are excellent for the student to learn how to be in a social environment with other children while having fun.
We offer Qualified instructors who have a passion to teach, the ability to help students progress in technique and encourage the love of the art.
Multiple teaching levels, both Recreational & Competitive, based on your child's interest and ability.
We offer BOTH dance and gymnastics. "Best of Both Worlds"
Recital is important but not the focus of the entire year. The emphasis is placed on the process of learning and acquiring skills, as well as having fun.
Our dance teams are for those seeking more performance opportunities throughout the year. Also
Classes are age appropriate & fun.
Age Appropriate dance costumes- We believe in the preservation of a child's innocence. Modesty is the best policy.
Classes for all ages, 18 months through Adult.
We are a place where you will feel part of our dance and gymnastic family! We are very family oriented.
Yes, there is a difference ~ come discover who we are & who your dancer could be.
Whether you are interested in recreational dance class or our competitive dance, gymnastic, or cheer teams, we believe we have the class for you. Thank you for visiting our new Web site.
​
Our
dance/gymnastic school year is from mid August through mid May. A six- eight week summer session is held in June and July. The studio/gym is typically closed mid July to mid August except for competitive team practices.
​
We look forward to hearing from you.
Please let us know what your needs and questions are, we will be more than happy to help.
Contact Information: 334-285-5515 Or 334-221-4622
Email LDime@aol.com
​ 2011 Dance Team "Steps of Praise"

​2010 Dance Team ​"Steps of Praise"

2009 Dance/ Praise Team

2008 Dance / Praise Team


JUNIOR DANCE TEAM: We are now accepting new Junior Dance Team members. Please email me if your child would like to be part of the team. They will have 2 -3 extra practices a month. Usually on weekends. Additional fees would be required and students must be enrolled in Dance Classes and have the love of dance and the skill level required. Age requirement would be 8 and up. Exceptions may be made with appropriate skill level. Email me if there is an interest. Ms Barbara will get you more details.

More Dance Team information

To all interested in joining dance team:

I am so excited that you wish to be a part of the dance team at Lisa's Dance Dimensions. All ages and abilities are accepted. Let me explain about our team, which may be different than other dance teams.
First, Another Dimension is the name of the dance team. Dance team is separate from dance class and incurs additional fees and attire. We have a Sr. team and a Jr. team. All are welcome to join the Jr. team, and auditions are held for the Sr. team positions. Dance team is year round. Practices are held 1-3 days a month for 2-3 hours at a time, and we usually schedule community performances (on weekends) . Attire is determined per year and is bought and kept by you. Fees are paid monthly in addition to regular tuition. Remember that this is an ongoing requirement and fees are to be paid whether or not you attend practices (unless written notification of withdrawal from team status is submitted before the next term starts). Another Dimension has competed in the past, but we do not concentrate on competitions.
Second, Steps of Praise is our dance ministry. As part of Another Dimension, you are a part of Steps of Praise. "Dancing is the visualization of the word of God set to music. Romans 12:1 tell us, "To present your bodies as a living and holy sacrifice acceptable to God, which is your spiritual service of worship." Therefore, use dance as your strength and instrument for praise." – Natalie (DR Staff). It is our prayer that audiences are moved by the Holy Spirit as we glorify God, praising his name in the dance. As we continue to keep our focus on God, please pray for our team that we will be a positive witness of God's love while sharing our testimony through dance. Join us in our quest to change the future of dance!

2011 Next Dimension Gymnastic Team

2010 Turns N Tumbles Gymnastic Team

Coach Chelsie

2008 Gymnastic Team
2012 - 2013
Lisa's Dance Dimensions & Next Dimension Gymnastics

Discounts

Best of Both Worlds


2nd Location Discount

A 25% discount off your 2nd location will be offered to students taking at both our facilities. To determine price for 2 locations take location 1 @ full price and location 2 @25% discount - add together then divide by 10 if paying monthly. Divide by 4 if paying quarterly. To allow students a variety, remember we have put a cap on all classes at $118.00 Monthly per student. This will include both locations so that it may help you with further.