2017 - 2018 Fall Classes Begin August 20th
For More Information Call 334-221-4622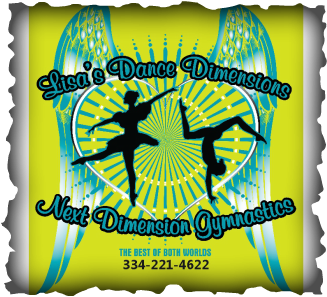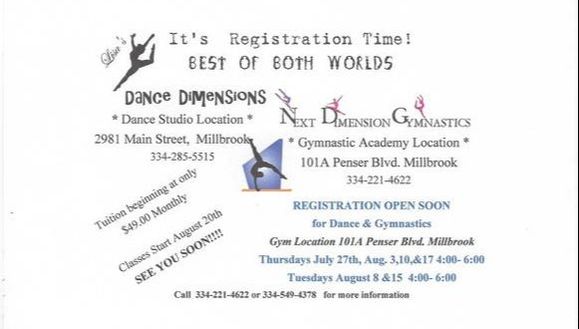 DANCE STUDIO LOCATION

Lisa's Dance Dimensions
2981 Main Street,
36054
Millbrook, Al. 36054

334-285-5515



​GYMNASTIC LOCATION

Next Dimension Gymnastics
101A Penser Blvd.
Millbrook, Al. 36054

334-285-5515 or 334-221-4622






*Registration open soon fall classes.*

*tuition starts @ only $49.00 monthly

Yearly Registration fee $39.00

​Want to register for Dance & Gymnastics? You have come to the right place.

Lisa's Dance Dimensions & Next Dimension Gymnastics
Best of Both Worlds

2nd Location Discount Available

A 25% discount off your 2nd location will be offered to students taking at both our facilities. To determine price for 2 locations take location 1 @ full price and location 2 @25% discount - add together then divide by 10 if paying monthly. Divide by 4 if paying quarterly. To allow students a variety, remember we have put a cap on all classes at $159.00 Monthly per student. This will include both locations so that it may help you with further.


Register For Dance & Gymnastic classes
* Ages 3-Adult Boys & Girls * Parent/Tot Walking - 3 years


​More Registration Information?? Call 334-549-4378

Below listed are our days times and locations of registration.
​we accept cash and checks only no Debit Cards

At Gymnastic location : Next Dimension Gymnastics
101 A Penser Blvd. Millbrook, Al

Tuesdays : August 8th & 15th
Thursdays : July 27, August 3, 10 & 17



Open House Registrations & to Purchase Supplies:
At STUDIO location : 2981 Main Street, Millbrook, Al.
Day & Time to be Notified


Register soon to Guarantee your Child's class . Classes are limited.